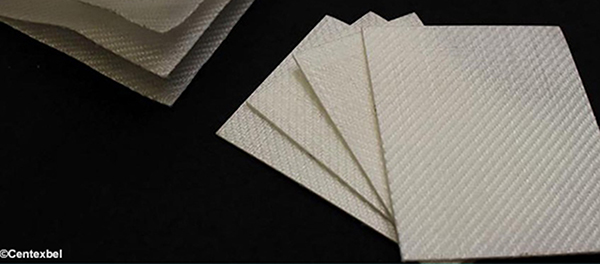 07 Oct

Centexbel, winner of the JEC World Innovation Award for its bio-based composite material

At the International Composites JEC fair in Paris, Centexbel distinguished itself with the BIO4SELF concept, developed as part of a European H2020 project. BIO4SELF is a self-reinforcing composite material based on two types of PLA with different melting temperatures. The first type of PLA has a low melting temperature and forms the matrix while a PLA with a higher melting temperature and high stiffness forms the reinforcing fibres.
Efficient and recyclable!
This new material presents more favourable end-of-life scenarios than the polypropylene equivalents currently used for equivalent properties. Biosourced PLA, produced from sugar-rich biomass, is recyclable and compostable under industrial conditions. Indeed, the properties of BIO4SELF make it easy to recycle while offering high rigidity and thus allowing industrial technical applications such as automotive, sports, medical…
A project to follow: COMPOSENS
The Interreg COMPOSENS project aims to develop crossborder polymer-wood composite materials or high-performance vegetable fibres with a low environmental impact for the production of light and recyclable biocomposites. This project aims to use renewable resources from the Franco-Belgian region: wood and natural fibres, such as hemp and link.
Like the BIO4SELF project, COMPOSENS offers a sustainable alternative in terms of composite materials by developing a polymer composite reinforced with natural fibres. One of the development perspectives of the COMPOSENS project consists in the use of a biosourced PBS matrix. This matrix coupled with natural fibres (flax or hemp) would have the advantage, as for BIO4SELF, of making the material compostable.
The COMPOSENS project will present its results of 4 years of research (2016-2020) in September 2020.
Source :